Well, I'll let you in on a secret. "Thud" is just a pseudonym. My real name is Daryl Hrdlicka. "Thud" is a character I used to play who was basically big, strong, and stupid, not too unlike myself. I'd led a checkered and merry life. The things I've done (the short list) include:

Pool player (team captain, no less!), Tournament organizer, newspaper photographer, Pre-Theology student (Methodist), Co-Chair of the Board for a Battered Women's agency, sports reporter, computer programmer, poet, songwriter (all styles), Boggle champion, sword collector, storm chaser, ham radio operator (KA0FVY), portrait photographer, magick researcher, Purity Test programmer, videotape repairman, savior, drink inventor, suicide crisis line worker, and pizza delivery boy.

Oh yeah, there's also rock hunter, Post Office supervisor, RPG designer/GM/player, bad pun maker ("You sing the verses yourself. I'll refrain."), crossword wiz, inventor in general (if I had more ambition, I'd be a mad scientist), storyteller, jokester, flirt, and bad gambler.

And web site designer, bird watcher, warlock, bodyguard, librarian, fisherman, graphic artist, bartender, assistant editor for Amaranthus (a local poetry publication), a hopeless romantic, and backup singer (bass) with Drakon.

AND...football manager, trackrat, summerstock actor, Sunday School teacher...

What, you still want more? Well, since the last update, I'm also... (as of 4/29/98)... an ordained minister (Universal Life Church), Westbrook City Pool Champion, a father (within a week), an adult toy designer/manufacturer...

And as of 6/13/98, I'm a REAL father and a leathercrafter.

And now, as of 11/5/99, I'm a System Administrator, soon-to-be father again (January), a time-share husband to a delightful lady, Pool League President, font designer...

Okay, the update as of 3/19/00: I'm now the father to a second beautiful girl, Rhiannon, and an ex-Chairman of the Board.
On the more personal side, I'm 6'1", 250, bearded, blue eyes, dark hair, engaged 6 times, married twice (presently to my muse), and have 3 cats.
What else is there to say?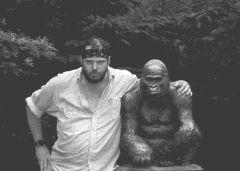 Self and friend